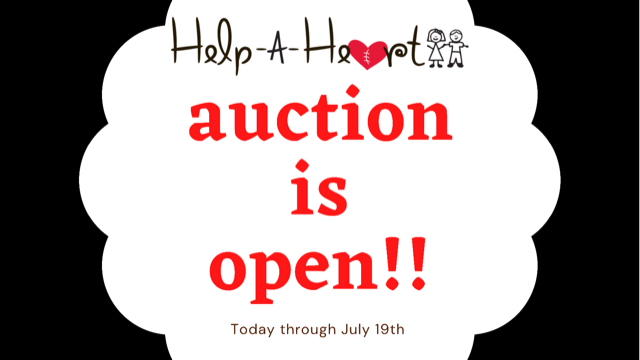 Due to continued COVID-19 concerns, we have made the decision to keep Help-A-Heart's 16th Annual Celebration of Life Dinner & Silent Auction VIRTUAL again for 2021. While we can't meet in person and enjoy the soda bar, hand out goodies to the kids, and enjoy a meal from Jethro's BBQ, we can still meet virtually to raise money for Help-A-Heart and celebrate the CHD families we support on a daily basis.
We look forward to seeing you virtually! Bidding will start at 9 am on Monday, July 12th, & end on on Monday, July 19th, at 9 pm! There is also a 'Buy Now' option for every item, so if you want to guarantee you're a winner, click that to secure that item at that price. No one else will be able to bid on the item after that. Bid early & often! Join us at 7 pm on July 19th for a Facebook Live Video which will feature some stories from our heart hero & angel families.
Click the button below to view the virtual auction site. Silent auction items will be added soon! We will also have some great incentives for cash donations! Thank you for having a heart to Help-A-Heart!