Jennings was born via emergency C-section on August 16th, 2 months premature and with a severe heart defect. At 2 days old, he was transferred to a hospital 2 hours away. The focus was to get him up in weight (he was only 2lbs 9oz when he was born) and getting his lungs strong enough to undergo the first of 3 expected surgeries to repair his heart.
His lungs weren't coming along as they hoped, so at 3 months old, he underwent a surgery to place bands to help with blood flow to the lungs. The surgery seemed to accomplish what the doctors were hoping for.
A month later, they went back in for a cardiac cath procedure to enlarge a hole in his heart to assist with blood flow. As the weeks went by, we all realized that the procedures weren't going to be enough due to his lungs still not working well. Weighing pros and cons, we decided to proceed with his Norwood surgery, hoping to help the lungs out. He went in for that on his 5-month birthday. The first couple days were great but then he coded, and it took about 10 min. for the doctors to bring him back. He was placed on ECMO for 3 days to give his body a break and some time to heal. That seemed to do the trick and 10 days after surgery, they were able to
close his chest.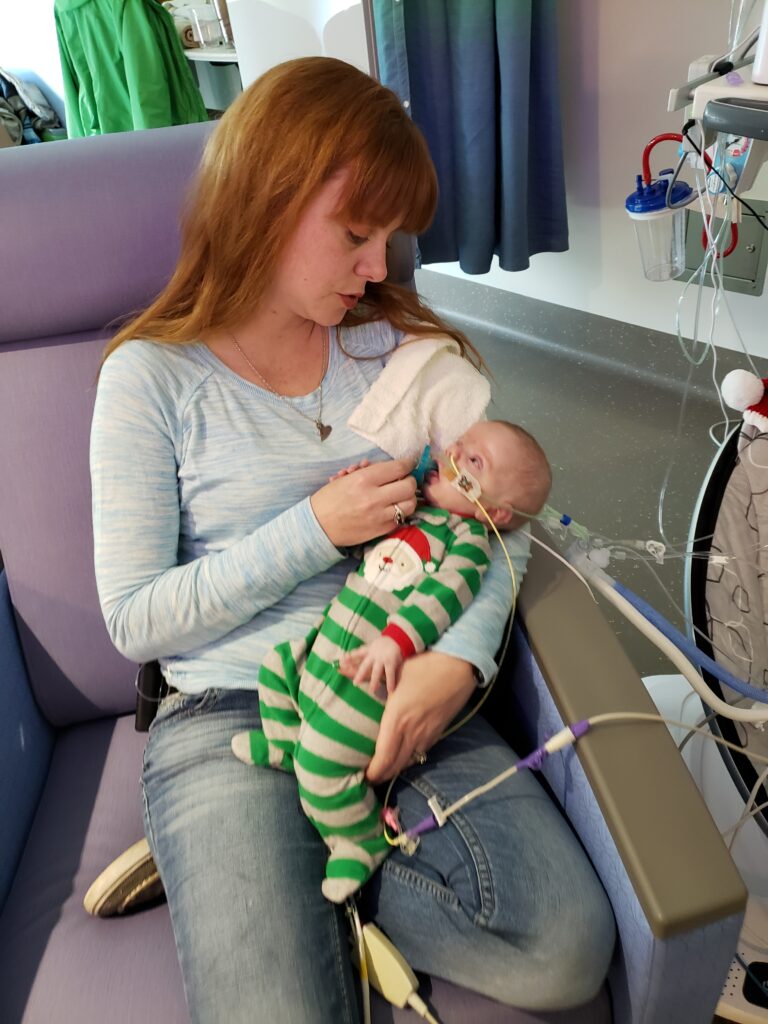 For the next month or so, it was back to "business as usual" in the PICU. He had good days and bad days but overall seemed to be doing ok. Then, towards the end of the month, they noticed some fluid on his lungs and had to do an emergency surgery to place a chest tube to relieve pressure. He was also on multiple medications to help his lungs, but he was still slowly declining.
By the middle of March, they had exhausted all medicinal options. So, after much deliberation with his entire medical team, we decided to try one more surgery. He went in for that on March 21st. We were hopeful at first but by the end of the day, he was back on ECMO, unable to do anything on his own.
After 4 days, we attempted to wean him off the ECMO slowly to see if he was able to take over but unfortunately, he wasn't. We let him go the evening of March 25th. He was 7.5 months old. While it's easy to only remember the hard times, there were so many great times too. The way he would peek out of one eye when he'd hear my voice, earning the nickname Peeks. Watching his two older brothers, Jorden and Jasper, walk in his hospital room and how their faces would light up when they saw him. Seeing the way he would completely relax, knowing he was safe in his daddy's arms. The way he always had a smile for the ladies taking care of him, the little flirt. Those memories, and more can bring a smile to our faces, even through the tears.